Monographie des Fringilles (vol. 1)

by Michel Ottaviani

This first volume examines 64 species belonging to 20 different genera, divided into two subfamilies: Fringillinae and Carduelinae (the Mycerobas, Eophona, Hesperiphona, Coccothraustes, Pyrrhoplectes, Leucosticte, Callacanthis, Haematospiza, Carpodacus, Uragus, Pinicola, Propyrrhula, Chaunoproctus, Pyrrhula, Loxia, Bucanetes, Rhodopechys, Rhodospiza and Rhynchostruthus).
Note is made on the current location in regards of taxonomy and phylogeny, then covers their characteristics (description, distribution, subspecies, denomination, habitat, food, behaviour, voice, courtship, nesting, migration and, if necessary, status. Each species has its own distribution color map. The aim of this work was to have all the species, including the rarer one, illustrated with photographs in their natural environment. The birds in the photographs allow to visually depicting their behavior revealing various wild plants exploited for food in the wild. This work is very rigorously documented and magnificently illustrated, designed to become a well-thumbed addition to libraries, classrooms, and personal bookshelves.
To order :
Phone: 02 38 43 97 18
Email: Editions.prin@wanadoo.fr

Fringillidi Speciali
by Dr.Giorgio de Baseggio
monduccelli@tiscali.it
Another excellent book by Dr. Baseggio, all about the latest techniques on how to breed Carduelan species and how to obtain an array of mutations. If you're having problems breeding Carduelan species and if your passion is mutations then this book is for you. Black Canaries? Who said it can't be done?
(At present only available in Italian language.)


IL CARDELLINO EURASIATICO
by Dr.Massimo Natale & Dr.Giorgio de Baseggio
monduccelli@tiscali.it
http://www.cardellino.it/e-libro.htm
A book all about keeping and breeding European Goldfinches, their subspecies and all the mutation currently available and bred in Europe. At present only available in Italian language, it has lots of photograph, well worth considering if Goldfinches is your passion.

The new book, "Il Cardellino" is also out now! This book is a "gem", packed with many, very high quality full page photos, even if you do not understand the Italian language it is money well worth spent! Without doubts this is the best book published on any birds in the recent years! Don't be disappointed, grab it while still in print!



"NEW"
Yellow-Bellied Siskin

By Dr. Carlos Ortega
E-mail: chogui@telcel.net.ve

This book written by Dr. Ortega provides breeders detailed description and information about the two subspecies of the (Spinus xanthogaster) as well as their keeping and requirements in captivity
(At the moment available in Spanish language only)
ISBN 980-328-665-X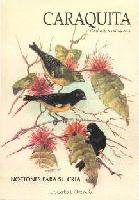 Goldfinches and their Mutations
Published by the ICC Holland
E-mail: huub@Vervest.net
This booklet is published by the International Carduelan Club Holland. Contains information on keeping and breeding Goldfinches and their mutations.
For information on how to obtain this publication please contact
Mr. Huub Vervest
64 pages 23 colour photos maps etc.
(At present only available in Dutch language)


EXCITING ANNOUNCEMENT!
Click here for Liz Wilson's NEW Book!
Handbook of Avian Articles
Why Your Bird Needs an Avian Veterinarian,
How To Find One, and
How To Tell If You REALLY Have One..
http://www3.upatsix.com/liz/articles/avianvets.html

A guide to the
BIRDS OF COLOMBIA
By: Steven L.Hilty and L. Brown
Illustrated by: Gay Tudor
with John Gwynne, H. Wayne Trim, Michel Kleinbaum
Published by: Princeton University Press
ISBN 0-691-08371-1 (Alk. paper)
ISBN 0-691-08372-X (pbk)
Although I paid $157.25 for this book, since it is the right size for the Glove box, especially if you are planning a trip to Colombia, Peru or Ecuador. It is definitely one of the better books on the market, not as descriptive as "The Birds of South America" but if you are not so interested in subspecies but need reference on non-Carduelan species as well then this is the book you need . I used it in Ecuador while on expedition searching for the Saffron Siskins.